Home
>
Supporting Resiliency in Our Military Children and Adolescents Syllabus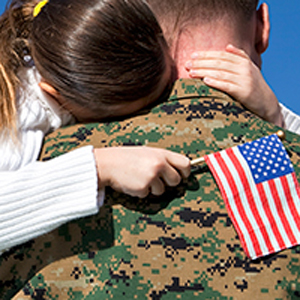 Supporting Resiliency in Our Military Children and Adolescents
Description
This course is designed to introduce educators, caregivers and mental health professionals to the military culture framework as well as the impact military deployment has on the child at different developmental stages. Methods for supporting the child and family in the classroom as well as at home will be explored. Through a common knowledge base, educators, caregivers and mental health professionals can begin to encourage continuation of working together to support and strengthen resilience in children and adolescents from military families.


Delivery
This is a self-paced course with optional knowledge check quizzes after each lesson. These non-graded quizzes allow you to check your understanding of the lesson objectives before proceeding to the next lesson. After the final lesson you will be required to take the final exam. You must score 70% or higher to pass the course and obtain a certificate of completion.
Objectives
Create a framework for military culture's diverse experiences to assist in resiliency support.
Describe how a family's military experience impacts children specifically by age and developmental stages.
Discuss positive and helpful methods to engage military families and support the needs of children within these families.
Assist in developing and finding resources to offer the children and families.
Contact Time
2 contact hour(s) based on 60 minute contact hour
Estimated Time
The estimated time for completion for this activity is 0 hours
Intended Audience
This course is designed to meet the continuing education requirements of educators, caregivers and mental health professionals. This course may also be appropriate for other professionals working with military connected children of all ages and/or their families.
Course Planning Team
Abbey Hellickson, M.Ed.; Jennifer Kiehne, MA; Kathy Richie, BSN, RN; Sheila Kiscaden, M.S.; Kit Hawkins, Ed.D.; Andrea Bjornestad, Ph.D., LPC, NCC; Brad Lohrbach, MSW
Disclosure Statements:
Commercial Support: This course was developed in accordance with ANCC Commercial Support Guidelines. No commercial support was accepted for the development of this course.
Author Originating
Jennifer Kiehne - MA
Jennifer Kiehne is an instructor of Psychology at Rochester Community and Technical College in Rochester, Minnesota. Jennifer received her Bachelor of Science degree in Psychology from Minnesota State University- Mankato and her Master of Arts in Counseling and Psychological Services from St. Mary's University Graduate Studies. Her counseling experience includes working with children, adolescents and adults in individual and group settings. Prior to her work at Rochester Community and Technical College, Jennifer taught psychology classes and coordinated student service learning for the Minnesota School of Business- Rochester, Minnesota campus for over 5 years.
Copyright
Materials used in connection with this course may be subject to copyright protection. Retention of the materials for longer than the class term, unauthorized further dissemination of the materials, or use of copyrighted materials in any way other than intended for this class is prohibited by Copyright and Teach Act laws.
Acknowledgment
This course was developed with Rochester Community and Technical College's Center for Business and Workforce Education located in Rochester Minnesota and Beyond The Yellow Ribbon Southeast Minnesota with financial support from Tee It Up for the Troops.
Evidence Based References
APA, Contributors.
(2013, Febuary ) - Resilience in a Time of War American Psychological Association -
Bjellum, Marcy Sue.
(2013, April ) - Military Family Interview- Marcy Sue and Samuel. Personal interview -
Courage to Car Campaign.
(2013, Febuary ) - Helping Children Cope During Deployment. Of the Health Sciences. Courage to Care -
Ects of War
(2013, Febuary ) - Terrorism and Disaster on Children and Child Development. Web -
Hains Barker, Lisa, Ph.D, and Kathy Berry, CFLE, MS.
(2009) - Developmental Issues Impacting Military Families With Young Children During Single and Multiple Deployments.. Military Medicine 174 (2009): 1033-040. -
Harrison, Judy, and Kimberly J. Vannest.
(2008) - Educators Supporting Families in Times of Crisis: Military Reserve Deployments. Preventing School Failure 52.4 (2008): 17-22. -
Hawkins, Kit.
(2013) - Educator Interviews. Personal interview. 17 Apr. 2013. -
Kilber, Joy, LICSW, MSW, ACSW.
(2013) - Personal Interview. Personal interview. 12 Mar. 2013. -
Kuehner, Cynthia A., CDR, NC, MSN.
(2013) - My Military: A Navy Nurse Practitoner's Perspective on Military Culture and Joining Forces for Veteran Health. Journal of the American Association Of Nurse Practioners 25.2 (2013): 77-83. -
Langston, Victoria, BSc, Matthew Gould, DClin Psych, and Neil Greenberg, Sugeon Commander.
(2013) - Culture: What Is Its Effect on Stress in the Military? AMSUS - The Society of the Federal Health Agencies. N.p., Sept. 2007. Web. 20 Feb. 2013. -
Lowe, Kendra N., Katharine S. Adams, Blaine L. Browne, and Kerry T. Hinkle.
(2012) - Impact of MiIitary Deployment on Family Relationships. Journal of Family Studies 18.1 (2012): 17-26. Print. -
Masten, Ann S., Ph.D, Joy D. Osofsky, Ph.D, and Abigail Gewirtz, Ph.D.
(2013) - Effects of War, Terrorism and Disaster on Children and Child Development. Rev. of General Conclusions from Diverse World Literature. Weblog post. University of Minnesota. College of Education + Human Development, Sept. 2011. Web. 2 Feb. 2013. - blog.lib.umn.edu/
Military Families.
(2013) - Military Families. Minnesota Department of Education. N.p., n.d. Web. 8 Mar. 2013. -
Military One Source.
(2013) - Building the Resiliency of Your Military Family. Military OneSource. N.p., n.d. Web. 21 Mar. 2013. -
Mmari, Kristin N., Catherine P. Bradshaw, May Sudhinaraset, and Robert Blum.
(2010) - Exploring the Role of Social Connectedness Among Military Youth, Perceptions from Youth, Parents, and School Personnel. Child and Youth Care Forum 39.5 (2010): 351-66. Print. -
Park, Nansook.
(2011) - Military Children and Families, Strengths and Challenges During Peace and War. American Psychologist 66.1 (2011): 65-72. Print. -
StressStop
(2013) - Resiliency Skills - How Resiliency Can Help You Reduce Stress and Succeed in Life -by StressStop. Stress Stop, n.d. Web. 18 Mar. 2013. -
Reuter, Matthew.
(2013) - Military Personnel Interview. Personal interview. 18 Apr. 2013. -
Riggs, Shelley A., and David S. Riggs.
(2011) - Risk and Resilience in Military Families Experiencing Deployment: The Role of the Family Attachment Network. Journal of Family Psychology 25.5 (2011): 675-87. Print. -
Rossen, Eric, and Courtney D. Carter.
(2013) - Supporting Students from Military Families. EdDigest. Prakken Publishers, n.d. Web. 21 Feb. 2013. -
SAMHSA.
(2013) - Tips for Talking With and Helping Children and Youth Cope After a Disaster or Traumatic Event. The Substance Abuse and Mental Health Services Administration. HHS Publisher, Apr. 2007. Web. 21 Feb. 2013. -
Swenson, Rebecca, Ph.D, and Jennifer Wolff, Ph.D.
(2013) - Deployment for Military Families Carries Emotional and Behavioral Consequences. The Brown University Child and Adolescent Behavior -
Course Code
BTYR_SC
Course Category
BTYR Training