Home
>
Difficult Decisions: Managing Communication Challenges Syllabus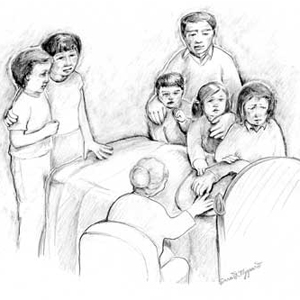 Difficult Decisions: Managing Communication Challenges
Course Learning Outcomes
As a result of participating in this learning activity the learner will be able to:
Demonstrate knowledge of culturally sensitive communication techniques to effectively guide and support patients and families facing a terminal illness as evidenced by passing the final exam with a score of 80% or higher at the end of the on-line learning activity.
Description
This lesson is designed for professionals supporting patients who have recently learned that they have a terminal illness. It is the physician's role to discuss a new diagnosis and the expected course of the disease (prognosis) with the patient. However, it is the role of the healthcare professional to reinforce, educate, support and empower the patient and the patient's family to understand and accept the illness.
Delivery
This is a self-paced course with optional knowledge check quizzes after each lesson. These non-graded quizzes allow you to check your understanding of the lesson objectives before proceeding to the next lesson. After the final lesson you will be required to take the final exam. You must score 80% or higher to pass the course and obtain a certificate of completion.
Objectives
Describe the role of the physician in communicating news of a terminal illness
Identify guidelines for establishing the framework for difficult discussions
Define the components necessary in the exchange of normal communication
State the importance of non-verbal communication
Identify the sensory losses that impair communication.
Explain how cultural and language barriers influence effective communication.
Identify actions to improve communication between the professional, the patient and the family.
Describe the emotional symptoms that may create barriers to effective and accurate communication.
Outline the challenges and benefits in prognostication of an illness.
Outline the steps in providing an environment conducive to effective communication.
List three examples of ways to show the patient you are engaged in the conversation.
Provide three examples of open-ended questions to use in an initial conversation regarding a patient's diagnosis.
Compare and contrast the communication of false hope with reframed hope.
Provide three examples of reframed hope that may be identified by the patient
Describe the importance of understanding culture and diversity in the care of the terminally ill patient.
Define and contrast cultural diversity, cultural sensitivity, and cultural competence.
Describe two tools the healthcare professional can access for improved cultural competence.
List two examples of potential cultural conflict when contemplating communication about death and dying.
Describe the value of communicating advance directive wishes with the patient, family, and health care providers.
Identify actions that you can take to improve communication between the patient and family regarding advance directives.
Compare and contrast the benefits and burdens of CPR in the terminally ill patient.
Define the benefits and burdens of hydration/dehydration.
List others areas where difficult decisions will need to be addressed.
List ways in which the health care professional can assist the patient in creating lasting memories for surviving family members
Define the role of the health care professional in discussions of pre-planning funerals and memorial services
Define the role of the family in discussions of pre-planning funerals and memorial services
List two ways to include children in the preparation for death.
List three supportive resources found in your community.
Compare and contrast the support needs of family members and healthcare professionals.
Outline structured support opportunities and care.
Contact Time
2.5 Contact Hour: based on 60 minute contact hour
Estimated Time
The estimated time for completion for this activity is 2.5 hour(s).
Intended Audience
Health care professionals and volunteers to: include Registered Nurses, Licensed Practical Nurses, Social Workers, Physicians, Chaplains/Counselors, Home Healthaides, Certified Nursing Assistants, Homemakers, Volunteers, Therapists, and others interested in hospice services and information.
Course Planning Team
Kathy Richie, BSN, RN, Lores Vlaminck, RN, BSN, MA, Technical Nurse Consultant, Lores Consulting
Course Expiration Date
As required by ANCC, this continuing nursing education activity must carry an expiration date. You must complete the content, Final Quiz and Course Survey on or before that day. The last day to successfully complete this course and receive a Certificate of Completion will be December 31, 2023.
Approvals
NCPD
- Nursing Continuing Professional Development
"Rochester Community & Technical College is approved with distinction as a provider of nursing continuing professional development by the Wisconsin Nurses Association, an accredited approver by the American Nurses Credentialing Center's Commission on Accreditation."
Provider Approval Number: WICEAP-0149-007
Disclosure Statements:
Commercial Support: This course was developed in accordance with ANCC Commercial Support Guidelines. No commercial support was accepted for the development of this course.
Non-endorsement of Products and Off Label Use: This course provides a balanced view of therapeutic options. Use of generic names is always considered before using trade names. Consequently, if trade names are necessary, when available, we will use trade names from several companies. RCTC and the course planning team do not endorsed any products or drugs that may be mentioned in this course.
Author Originating
Lores Vlaminck - RN BSN MA Technical Nurse Consultant Lores Consulting
Lores received both her Bachelors of Science Degree in Nursing and her Master's in Nursing Education from Bethel University, St. Paul, MN. Lores has a varied background of healthcare experience to include acute and critical care, clinical nurse specialist, and most recently, 19 years of experience as the founder and director of a rural home care and hospice agency.

Lores' passion is education for health care professionals, para-professionals, volunteers, and the community at large in the specialty of end-of-life care. Lores offers seminars, training, orientation, coaching, presentations, compliance monitoring, and mentoring for home care, hospice agencies, and health care organizations.
Copyright
Materials used in connection with this course may be subject to copyright protection. Retention of the materials for longer than the class term, unauthorized further dissemination of the materials, or use of copyrighted materials in any way other than intended for this class is prohibited by Copyright and Teach Act laws.
Acknowledgment
This course was developed with Rochester Community and Technical College's Continuing Education and Workforce Development Division located in Rochester Minnesota. Development was funded from the Minnesota State Colleges and Universities System.
Course Code
HOSP_PC
Course Category
Hospice