Home
>
The Faces of Grief: Addressing Spiritual And Bereavement Needs Syllabus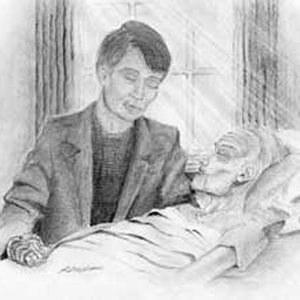 The Faces of Grief: Addressing Spiritual And Bereavement Needs
Course Learning Outcomes
As a result of participating in this learning activity the learner will be able to:
Demonstrate knowledge of methods to comfortably assess and address the spiritual and bereavement needs of the patient and family with education, resources, and information as evidenced by passing the final exam with a score of 80% or higher at the end of the on-line learning activity.
Description
Grief manifests itself in many ways to the patient and to the family. A broader understanding of spirituality and bereavement enables the care team to provide help to those they serve as well as take care of themselves. This course will assist the participant in identifying methods to comfortably assess and address the spiritual and bereavement needs of the patient and family with education, resources, and information.
Delivery
This is a self-paced course with optional knowledge check quizzes after each lesson. These non-graded quizzes allow you to check your understanding of the lesson objectives before proceeding to the next lesson. After the final lesson you will be required to take the final exam. You must score 80% or higher to pass the course and obtain a certificate of completion.
Objectives
Compare and contrast spirituality and religion
Identify your spiritual experiences and influences
Identify the spiritual needs of a dying patient and his or her family
Describe methods to meet their needs
Explore the methods of spiritual assessment
Outline barriers in meeting a patient's spiritual needs
Demonstrate the relationship between finding purpose in meaning of life and in finding hope
List five ways that may validate a patient's purpose in life
Define the relationship between pre-planning a funeral and finding meaning in death
Identify commonly known experiences of grief and loss
Define common grief reactions
Describe the role of the professional in supporting the bereaved
Describe the ways in which the bereaved may find solace.
Describe the special needs of a child experiencing death
Outline methods of grief support for the adolescent and teen
Describe the importance of rituals and commemorations in the grieving process.
Offer three examples of questions you might ask the patient while exploring their feelings of loss.
Identify two common feelings that may be experienced by the bereaved following the death of their loved one.
List three options for grief support found in most communities
Define the benefits of a grief support group
Define the responsibility of hospice for bereavement
Define complicated grief
Contact Time
2 Contact Hour: based on 60 minute contact hour
Estimated Time
The estimated time for completion for this activity is 2 hour(s).
Intended Audience
Health care professionals and volunteers to: include Registered Nurses, Licensed Practical Nurses, Social Workers, Physicians, Chaplains/Counselors, Home Healthaides, Certified Nursing Assistants, Homemakers, Volunteers, Therapists, and others interested in hospice services and information.
Course Planning Team
Kathy Richie, BSN, RN, Lores Vlaminck, RN, BSN, MA, Technical Nurse Consultant, Lores Consulting
Course Expiration Date
As required by ANCC, this continuing nursing education activity must carry an expiration date. You must complete the content, Final Quiz and Course Survey on or before that day. The last day to successfully complete this course and receive a Certificate of Completion will be December 31, 2023.
Approvals
NCPD
- Nursing Continuing Professional Development
"Rochester Community & Technical College is approved with distinction as a provider of nursing continuing professional development by the Wisconsin Nurses Association, an accredited approver by the American Nurses Credentialing Center's Commission on Accreditation."
Provider Approval Number: WICEAP-0149-007
Disclosure Statements:
Commercial Support: This course was developed in accordance with ANCC Commercial Support Guidelines. No commercial support was accepted for the development of this course.
Non-endorsement of Products and Off Label Use: This course provides a balanced view of therapeutic options. Use of generic names is always considered before using trade names. Consequently, if trade names are necessary, when available, we will use trade names from several companies. RCTC and the course planning team do not endorsed any products or drugs that may be mentioned in this course.
Author Originating
Lores Vlaminck - RN BSN MA Technical Nurse Consultant Lores Consulting
Lores received both her Bachelors of Science Degree in Nursing and her Master's in Nursing Education from Bethel University, St. Paul, MN. Lores has a varied background of healthcare experience to include acute and critical care, clinical nurse specialist, and most recently, 19 years of experience as the founder and director of a rural home care and hospice agency.

Lores' passion is education for health care professionals, para-professionals, volunteers, and the community at large in the specialty of end-of-life care. Lores offers seminars, training, orientation, coaching, presentations, compliance monitoring, and mentoring for home care, hospice agencies, and health care organizations.
Copyright
Materials used in connection with this course may be subject to copyright protection. Retention of the materials for longer than the class term, unauthorized further dissemination of the materials, or use of copyrighted materials in any way other than intended for this class is prohibited by Copyright and Teach Act laws.
Acknowledgment
This course was developed with Rochester Community and Technical College's Continuing Education and Workforce Development Division located in Rochester Minnesota. Development was funded from the Minnesota State Colleges and Universities System.
Course Code
HOSP_SN
Course Category
Hospice