Home
>
Care of the Individual Receiving Enteral Nutrition Syllabus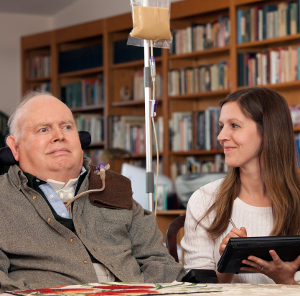 Care of the Individual Receiving Enteral Nutrition
Purpose
As a result of participating in this learning activity, the learner will be able to demonstrate knowledge of the care necessary for individuals receiving enteral nutrition by passing the final exam with a score of ≥ 70% at the end of the on-line learning activity.
Description
In the past, aides in home care and long-term care have had limited exposure to individuals receiving enteral nutrition, commonly referred to as tube feedings. However, this is changing rapidly with the increase in the level of care needed for individuals in home care and/or skilled nursing facilities. Aides in these settings need knowledge of current enteral nutrition care guidelines to meet these changing needs.

This module provides aides with knowledge of current evidence based care for individuals receiving enteral nutrition. Aides will have the opportunity to learn about the gastrointestinal system and how it relates to different feeding tubes, nutritional formulas and supplies. In addition, current evidence based care techniques and observation skills necessary for providing effective care for individuals receiving enteral nutrition will be discussed.
Delivery
This is a self-paced course with knowledge check activities. These non-graded activities allow you to check your understanding of the lesson objectives before proceeding on in the course. At the end of the course, you will be required to take the final exam. You must score 70% or higher to pass the course and complete the evaluation in order to obtain a certificate of completion.
Objectives
Explain the difference between enteral nutrition and normal digestive process
Describe when enteral nutrition can be used as well as not used
Recognize different types of tubes, formula and equipment associated with enteral nutrition
List common enteral feeding complications and possible causes
Identify observations requiring prompt report to the nurse
State care and support the aide can provide related to enteral nutrition issues
Contact Time
1 Contact Hour: based on 60 minute contact hour
Estimated Time
The estimated time for completion for this activity is 1 hour(s).
Intended Audience
This course is designed to meet the continuing education requirements of health care professionals such as Home Health Aides or Nursing Assistants working in home care or skilled nursing facilities.
Course Planning Team
Kathy L. Richie, RN, BSN; Nancy Hust, RN, MS, CNE; Vanessa Kneeskern, BSN, RN; Chris Stewart, RN; Janet Schuck, RN; Amy Stoeger, RN
Approvals
HLC
- Higher Learning Commission
Rochester Community and Technical College is fully accredited by the Higher Learning Commission of the North Central Association of Colleges and Schools.
HLC Institution ID:1399
Disclosure Statements:
Commercial Support: This course was developed in accordance with ANCC Commercial Support Guidelines. No commercial support was accepted for the development of this course.
Bias: This course provides a balanced view of therapeutic options and is free of commercial bias for or against any product or commercial entity. Use of generic names is always considered before using trade names. Consequently, if trade names are necessary, when available, trade names from several companies will be used. RCTC and the course planning team do not endorse any products or drugs that may be mentioned in this course.
Mitigation of Relevant Financial Relationships: No planners or faculty have any financial relationships (with companies whose primary business is producing, marketing, selling, re-selling, or distributing healthcare products used by or on patients) that are relevant to the content of this educational activity.
Author Originating
Nancy Hust - BSN RN MS CNE
Nancy Hust is a certified Nurse Educator with over 35 years of experience in nursing, encompassing home health care, long term care and acute care. For the past 12 years, Nancy has been primary instructor for the practical nursing program at Rochester Community and Technical College in Rochester, MN, focusing on nursing fundamentals and geriatric care. During that time, Nancy served as Faculty Champion for the Upper Midwest Geriatric Nursing Education Alliance. She was also a fellow in the Faculty Learning about Geriatrics program at the University of MN Hartford Center of Geriatric Excellence and a contributing scenario author for Elsevier Simulation Learning Systems for LVN/LPN's.
Copyright
Materials used in connection with this course may be subject to copyright protection. Retention of the materials for longer than the class term, unauthorized further dissemination of the materials, or use of copyrighted materials in any way other than intended for this class is prohibited by Copyright and Teach Act laws.
Acknowledgment
This course was developed by Rochester Community and Technical College's Continuing Education and Workforce Development Division located in Rochester Minnesota.
Course Code
NAIR
Course Category
Paraprofessional Healthcare Continuing Education