Home
>
Hearing for Health Care Professionals Syllabus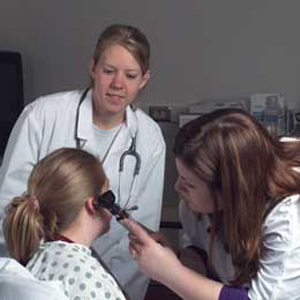 Hearing for Health Care Professionals
Description
Audition (hearing) is crucial for humans since most of the time we relate to each other through verbal communication. Hearing loss is thought by many to be the most devastating handicap of all, frequently resulting in withdrawal from interactions with society and meaningful people such as family and friends.
Delivery
This is a self-paced course with optional knowledge check quizzes after each lesson. These non-graded quizzes allow you to check your understanding of the lesson objectives before proceeding to the next lesson. After the final lesson you will be required to take the final exam. You must score 80% or higher to pass the course and obtain a certificate of completion.
Objectives
Understand the auditory structure and how hearing occurs
List four age-related changes of hearing
Describe two benefits of cerumen
Differentiate subjective and objective tinnitus
List two treatment strategies for otosclerosis
List three symptoms of presbycusis
List three symptoms of Meniere's Disease
Differentiate dizziness and vertigo
Differentiate the two types of hearing loss
Contact Time
1.25 Contact Hour: based on 60 minute contact hour
Estimated Time
The estimated time for completion for this activity is 1.25 hour(s).
Intended Audience
This continuing education course is of interest for all healthcare professionals that communicate with patients and peers, such as: licensed practical nurses, registered nurse, physical therapists, dietitians, and social workers.
Course Planning Team
Kathy Richie, BSN, RN, Patricia Jump, RN, PHN, MA
Course Expiration Date
As required by ANCC, this continuing nursing education activity must carry an expiration date. You must complete the content, Final Quiz and Course Survey on or before that day. The last day to successfully complete this course and receive a Certificate of Completion will be December 31, 2023.
Approvals
NCPD
- Nursing Continuing Professional Development
"Rochester Community & Technical College is approved with distinction as a provider of nursing continuing professional development by the Wisconsin Nurses Association, an accredited approver by the American Nurses Credentialing Center's Commission on Accreditation."
Provider Approval Number: WICEAP-0149-007
Disclosure Statements:
Commercial Support: This course was developed in accordance with ANCC Commercial Support Guidelines. No commercial support was accepted for the development of this course.
Non-endorsement of Products and Off Label Use: This course provides a balanced view of therapeutic options. Use of generic names is always considered before using trade names. Consequently, if trade names are necessary, when available, we will use trade names from several companies. RCTC and the course planning team do not endorsed any products or drugs that may be mentioned in this course.
Author Originating
Patricia Jump - RN PHN MA
Technical Nurse Consultant, President Acorn's End Training and Consulting. Patricia Jump received her Bachelor's in Nursing Degree from Winona State University and her Masters of Arts Degree in Health and Human Services Administration from St. Mary's University. She has over 25 years experience in the health care field and almost two decades of public speaking experience. As a professional trainer and consultant, Patricia conducts seminars across the country for all levels of employees in business, professional associations, educational organizations, churches, and government agencies. Additionally, she serves as personal coach, consultant, and retreat facilitator for home care leaders and organizations throughout the nation.
Copyright
Materials used in connection with this course may be subject to copyright protection. Retention of the materials for longer than the class term, unauthorized further dissemination of the materials, or use of copyrighted materials in any way other than intended for this class is prohibited by Copyright and Teach Act laws.
Acknowledgment
This course was developed with Rochester Community and Technical College's Continuing Education and Workforce Development Division located in Rochester Minnesota. Development was funded from the Minnesota State Colleges and Universities System.
Course Code
RNHE
Course Category
Professional Health